Lisa's Historic Maps are now on ETSY!
www.etsy.com/shop/greatriverpublishing
We are happy to offer this new option fo those comfortable with the ETSY option. Please visit frequently for our newest maps!
Continue scrolling to order HISTORIC MISSISSIPPI RIVER MAPS on line Right Now!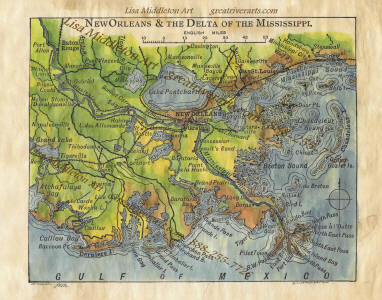 For more info, please phone 888-255-7726
or 406-471-7563.
For more info or to place a telephone order, please phone 888-255-7726 or 406-471-7563.
Lisa is pleased to consider commissions for your favorite map!
"The Cartographer draws the map. The artist makes it beautiful."
... Quote from the Vatican collection of ancient maps.
Thank you so much to ALL who attended our exhibit at the WINE GUYZ in La Crosse, WI. Click here to review paintings from the complete exhibit.

Lisa is now pleased to announce that her Historic Maps are now displayed and available for purchase at these quality venues along the Upper Mississippi River:

Abode: Design for the Home, Stockholm, WI

Minnesota Maritime Art Museum, Winona, MN

Freedom Park Visitor Center, Prescott WI


"The Cartographer draws the map. The artist makes it beautiful." ... Quote from the Vatican collection of ancient maps.
Now on Sale for a Limited Time Only!


"I have visited the map page 100 times this year, wishing I could buy one of Lisa's beautiful maps...!"

If this sounds like you, take note... order today and receive 20% OFF ANY of our Hand-painted historic reproductions of antique Mississippi River maps!! ALL PRICES WILL RETURN TO NORMAL Jan 2014.

NEW! Click link to visit our expanded section of Hand-Painted Historic Reproductions of Historic Maps of the Northwest Territories. NEW MAPS include MONTANA, IDAHO, LAKE ERIE, HAWAII. ALASKA, WASHINGTON, OREGON, CALIFORNIA, and MANY MORE.

To ORDER any of the hand-painted maps below, just call us at


888-255-7726 or order online below!
5x7" photo quality note cards are available for ALL historic maps. $4.50 ea

TESTIMONIALS

"Oh my goodness... could you do a painting like this of Montana?"
"Could you do a painting of Lake Erie? of Hawaii? of Vermont?"
"Yes, yes, yes, and yes!!"
---
New Historic Maps of NEW ORLEANS FRENCH QUARTER and DELTA!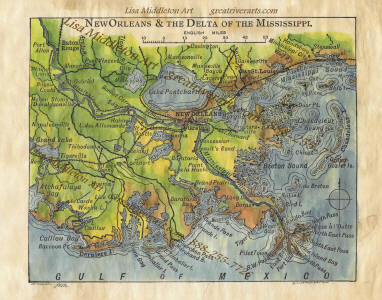 1906 New Orleans & the Delta
of the Mississippi River, Bartholomew
24x36" Original $365
18x24 Giclee Reproduction $145
Phone NOW to ORDER!
888-255-7726
---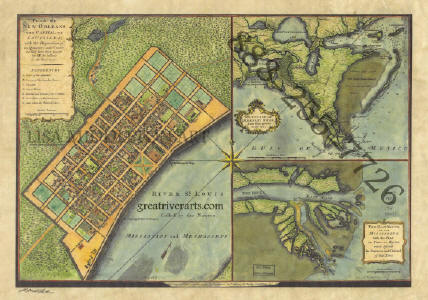 Plan of New Orleans and Mouths of the Mississippi River as originally drawn by La Tour in 1720. Wonderful detail of the modern day "French Quarter" as it was in 1720. Map published in the 1750s.
Giclee Reproduction 18x24 $150
24x36 Giclee Reproduction $225
Phone NOW to ORDER!
888-255-7726

---
NEW! Bartholomew of England, MONTANA 1906
36" wide Hand-Painted historic reproduction NOW $350
We also have 11x17" Hand-Stained, Artist-Signed and numbered Limited Edition Prints available at just $85 each!

---
1887 Ribbon Map by Willard Glazier
Hand Painted Collector Edition

Order now online, or phone
888-255-7726

This reproduction of a rare Mississippi River "ribbon map" was drawn by Captain Willard Glazier to "prove" his premise that the True Source of the Mississippi was Lake Glazier rather than Lake Itasca. Looking for modern day towns on an old map? Many modern-day towns are included in this. It also contains many towns noted no longer appear on maps, like Waterproof...which wasn't!

Each hand-painted ribbon map in this edition is delicately and individually hand-painted in skillfully blended watercolor earth tones.


1887 Father of Waters Ribbon Map is available in various sizes and prices
Prices shown reflect SALE PRICE!


All our hand-painted historic map reproductions can be produced to any size on a commission basis.

CLICK HERE for detailed historical information on Mississippi River RIBBON MAPS.

Filled with geographical and historical commentary. Inset is detailed map of Lake Itasca and the Mississippi River headwaters. Approximately 24" x 36"
Hand-Painted historic reproduction of Pike's Upper Mississippi Expeditions at $356.00

Now $285

We also have TWO Artist's Proofs Available at $256 each

Now $205